Starlight Desktop World Globe by ReplogleŽ Globes

Sale $69.99 (free shipping/handling)

Retail: $79.99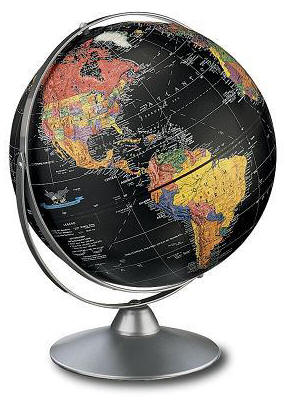 The Starlight is one of Replogle's most popular world globe styles in the 1940's and 1950's with today's cartography.
A beautiful satin chrome painted base with Gyro-matic mounting complement the striking black ocean design. Vibrant pop art colors distinguish boundaries on the 12" raised relief globe ball.
Diameter: 12" (30 cm)

Height: 16" (40 cm)

Weight: 5 lbs. (2.3 kg)

Not-Illuminated

Model #35800
Please call us toll-free 1(877) 822-9889 for orders/questions Mon.-Sat. 10:00 am-5:30 pm
Starlight Desktop World Globe by Replogle Globes, Item # 35800
Sale Price: $69.99, Desktop Globe with Raised Relief Black Ocean Cartography
World Globes make great gifts for Mother's Day, Father's Day & Graduation. Perfect as Wedding, Anniversary, Retirement Gifts, Corporate / Business / Executive Gifts, Bon Voyage & Birthday Presents