| | |
| --- | --- |
| Diameter: | 6.0" (15cm) |
| Stand Width: | 7.0" (18cm) |
| Height: | 12" (30cm) |
| Weight: | 7 lb. (3.2Kg) |
| Final Price: | $299.99 |
| Shipping: | |
| | |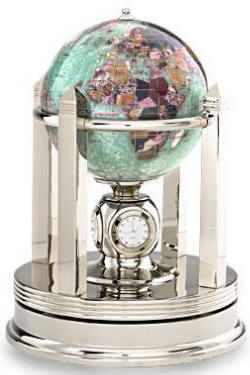 Item # G150G-PGR Out of Stock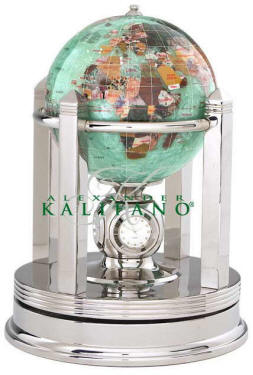 Item # G150BS-PGR Out of Stock
| | |
| --- | --- |
| Diameter: | 3.0" (8cm) |
| Stand Width: | 4.0" (10cm) |
| Height: | 8.7" (22cm) |
| Final Price: | $128.99 |
| Ship/H: | |
| | |
| | |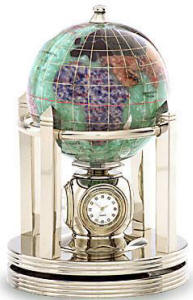 Item # G80BS-PGR Out of Stock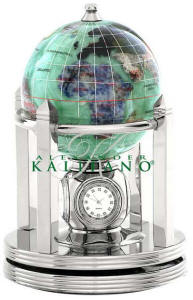 Item # G80BS-PGR Out of Stock
Gemstone globe is handmade with an assortment of semi precious stones that are individually carved into the shape of countries. Oceans are made from Peridot Green gem stone. Latitude, longitude and international date line are added with a fine gold or silver thread. Gem stone globe is positioned on top of a rotating gold or bright silver clock stand which features 3 clocks, each showing a different time zone setting, as well as a thermometer. Globe spins within the stand and is offered in 6" or 3" diameter. Gemstone globe makes a sophisticated addition to any room.
Each lustrous gemstone globe is beautifully inlaid with over 25 semi precious stones selected from countries around the world and, where possible, show the country of origin.
* Please note: 3" diameter globes due to their smaller size are not as detailed as the larger models.