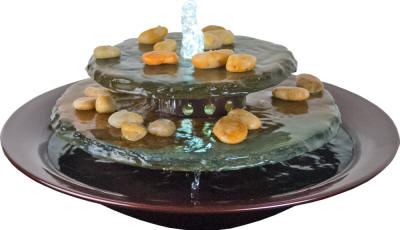 Item # BW-WWTPDC
| | |
| --- | --- |
| Dimensions: | 15" x 15" x 6.5" |
| Surface: | Natural Slate |
| Frame Color: | Dark Copper |
| LED Light: | Yes |
| Indoor Use: | Yes |
| Outdoor Use: | Yes |
| Capacity: | 1 Gallon |
Handmade tabletop fountain features two round multi-color slate tiers. Water bubbles up the center, then gently cascades into the Dark Copper colored bowl. The bubbling water glows white from the included LED Light adding drama and interest.
Tranquility Pool creates a great centerpiece for any table and comes complete with an adjustable pump, LED light and polished river rocks.
Fountain features a water pump that is designed to provide exceptional pumping capacity with minimal maintenance.