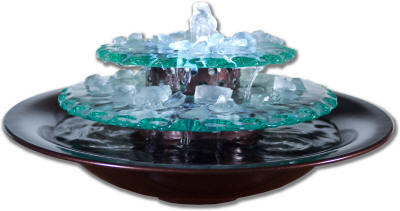 Item # BW-WWMLDG
| | |
| --- | --- |
| Dimensions: | 15" x 15" x 6.5" |
| Surface: | Natural Slate |
| Frame Color: | Dark Copper |
| Light: | Yes |
| Indoor Use: | Yes |
| Outdoor Use: | Yes |
| Capacity: | 1 Gallon |
The Moonlight bubbling tabletop water fountain creates a great centerpiece for any table.
Water bubbles up the center of the fountain top, then gently cascades over the glass scalloped edges and drips into the Dark Copper colored bowl. The water, glass tiers and accompanying glass rock all glow from the included LED Light adding drama and interest. At night Moonlight casts beautiful dancing shadows evocative of moonlight on water. Moonlight ships with an adjustable pump, LED lightning and glass rocks.
Features a water pump that is designed to provide exceptional pumping capacity with minimal maintenance.